Bio­gra­phy
Vir­tually over­looked by the public, Ame­ri­can David Wald­man (born 1963) has crea­ted a vast body of pho­to­gra­phic work whose visual uni­verse ori­gi­na­tes from his imme­diate sur­roun­dings: the Northeas­tern United Sta­tes. Wald­man does not com­pose his images; instead, he finds objects and struc­tures in ever­y­day life and cap­tures what has pre­viously gone unno­ti­ced with his camera. Pri­ma­rily through macro pho­to­gra­phy or unusual crop­ping, he unco­vers the inherent beauty of things – be it flowers, boats, buoys, street lamps, tools, neon sign, crops, wind tur­bi­nes, or auto­mo­bi­les. In this way, he always seems to touch the essence of what he depicts.
The design-related details or even the writ­ten ele­ments, such as gra­phic ciphers, appear and fre­quently cause an ele­ment of alie­na­tion. Wea­t­he­red sur­face struc­tures form a par­ti­cu­lar empha­sis here, as Wald­man gene­rally focu­ses less on the ste­rile aes­the­tics of new­ness than on the ubi­quity of decay and tran­si­ence. In this man­ner, he inces­santly reflects on the onto­lo­gi­cal nature of the motifs and inter­prets tra­ces of appa­rent destruc­tion as inherent to the image's mea­ning.
The exten­sive oeu­vre of David Wald­man was pre­viously known to only a small group of people and now – for the first time – is expe­ri­en­cing appro­priate acknowledgment.
Cur­ri­cu­lum Vitae
1963
born in Washing­ton, D.C., United Sta­tes of America
1963–1967
lived in Taiwan
1973–1977
lived in England
1985
Bache­lor of Sci­ence Degree in Gra­phic Arts, Uni­ver­sity of Maryland
David Wald­man lives and works in Sil­ver Springs,

MD

Photography
"First 'photo safari' was a trip to Lon­don in 1982, using a 110 camera with FLASH CUBES. Mana­ged to annoy some respec­ted musi­ci­ans during a per­for­mance at the Insti­tute For Con­tem­porary Arts. R.I.P., Derek Bai­ley. SURPRISE: Bri­tish Rail was on strike.
Obtai­ned Pen­tax SLR sys­tem 1983 (sto­len), then Nikon Sys­tem (sto­len), and ano­ther Nikon sys­tem (auc­tio­ned). Pre­fer­red Kodachrome. Stu­died dar­kroom tech­ni­que at Art Barn, Lau­rel, MD. I can still smell the faint aroma of Rapid­Fix.
Only "real" pay­ing gig was por­trai­ture for Natio­nal Insti­tu­tes Of Health. Por­trai­ture is my weak point.
Went totally digi­tal in 2004, and don't miss film. My cur­rent rig is Olym­pus.
Esta­blis­hed Flickr page in Novem­ber 2006, and have uploa­ded an aver­age of 7 images every day since.
My other obses­si­ons are syn­the­si­zers and sushi.
You're welcome."
David Wald­man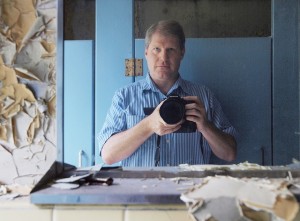 "I see my camera as both a scal­pel and a net, and the sun as my paint box. The mundane fasci­na­tes me, since it's over­looked by the sane folk. My artistic duty is to reveal the sple­ndor of rust, chip­ped paint, an aban­do­ned farm trac­tor, or a defi­ant assas­sin bug. As for com­po­si­tion, what to omit is equally import­ant as what to include. For what it's worth, I would rather leave home wit­hout my pants than wit­hout my camera." (David Waldman)