Works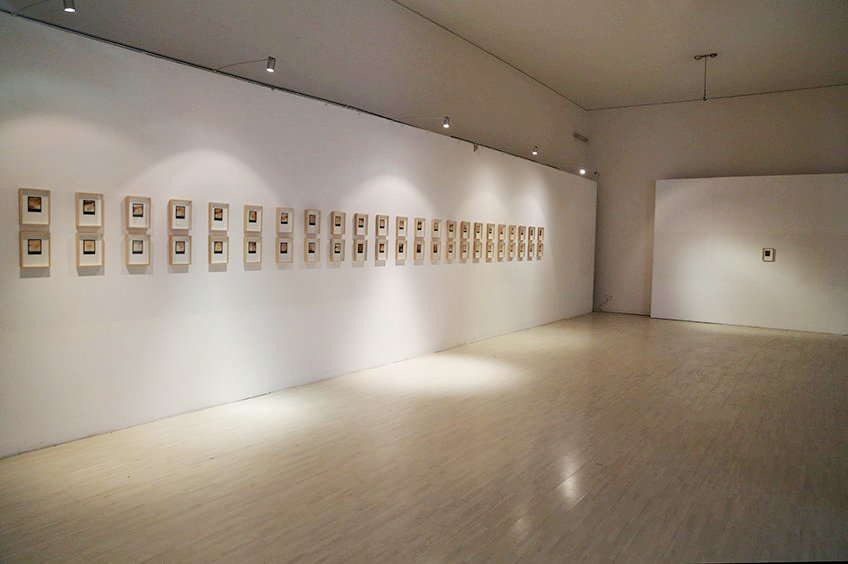 land­scape soundscape
ina otzko . alois späth
This dou­ble exhi­bi­tion brings the land­scape pho­to­graphs of Nor­we­gian artist Ina Otzko, who has now made sou­thern Italy her home, toge­ther with those of Ber­lin sound artist Alois Späth. Whe­reas Otzko, in her pro­ject LEVIATHAN, approa­ches a sleeping volcano by means of Pola­roid pho­to­gra­phy and enters into a dis­course about man's civi­li­zing responsi­bi­lity toward natu­ral resour­ces, Späth makes use of pic­tures of water and a tree as an oppor­tu­nity for an aes­the­tic rein­ter­pre­ta­tion of that which is found at hand.
20 June 2017 – 29 July 2017
On 20 June begin­ning at 7 p.m. all are invi­ted to the opening recep­tion at the gal­lery. The zither duo Sarah and Tabea Wur­mer, Munich, will be per­for­ming the com­po­si­tio "sphe­res & asso­cia­ti­ons" by Alois Späth for zither and elek­tro­nics. The artist Alois Späth will be present.
The fol­lo­wing works are pre­sen­ted in the show:
land­scape soundscape
The basic mate­rial for the exhi­bi­ted 21 fine art prints from the Series LEVIATHAN by Ina Otzko is the com­plete series of 78 framed (25 x 20 cm) Uni­que Pola­roid 600.
The pho­to­gra­phic approach is dedi­ca­ted to the cra­ter of the dor­mant Vul­cano Solfa­tara loca­ted wit­hin the Regio­nal Park of Campi Fle­grei in the muni­ci­pa­lity of Pozzuoli, north of Nap­les.
"Truth also is the pur­suit of it: Like hap­pi­ness, and it will not stand. Even the verse begins to eat away In the acid. Pur­suit, pur­suit; A wind moves a little, Moving in a cir­cle, very cold. How shall we say? In ordi­nary dis­course — We must talk now. I am no lon­ger sure of the words, The clock­work of the world. What is inex­p­lica­ble Is the 'pre­pon­der­ance of objects,' The sky lights Daily with that pre­do­mi­nance And we have become the pre­sent. We must talk now. Fear Is fear. But we aban­don one ano­ther." Levia­than, From New Collec­ted Poems by George Oppen (1908–1984).
The pro­ject Levia­than looks at the chal­len­ging posi­tion of our shared responsi­bi­lity in the sus­taina­bi­lity of life ver­sus the increa­sed cor­po­rate and pri­vate ownership of Earth's assets. Social hier­ar­chy and finan­cial power appear to sepa­rate us more than ever as dep­le­nis­hing resour­ces inver­sely coun­ter the num­ber of human beings on our pla­net. It begs the ques­tion: Does Earth need human beings? If the ans­wer is posi­tive, then how can we change our sup­po­sedly ine­vi­ta­ble course to enable sur­vi­val? "What hap­pens to us may depend upon three cau­ses: upon acci­dent, upon fate, upon free will" sug­gests Gurdjieff in Ouspensky's In Search of the Mira­cu­lous.
The more fine-tuned our body is, the more deeply we per­ceive our­sel­ves and others. With end­less access and aggres­sive use of avail­able digi­tal infor­ma­tion, what makes us choose one thought or deed over ano­ther? On ano­ther level, how does power and free­dom (which don't often sit well toge­ther) chal­lenge our con­tem­porary and social responsi­bi­li­ties at the same time as glos­sing over the con­tra­dic­tions bet­ween the sus­taina­bi­lity of human life and nature's eco­sys­tems? Fur­ther­more, how do our thoughts affect our iden­tity, beha­viour and the inherent indi­vi­dual responsi­bi­lity we have vis a vis our surroundings?
With the excep­tion of the sound for the piece Mein Herz Es Dampft, Alois Späth doesn't pre­sent any sound, sound instal­la­tion or musi­cal com­po­si­tion: he offers only purely visual art. Thus Späth is step­ping out from the cycle of what is expec­ted of him as a sound artist, just as he does a zig zag out of the loop of self-definition from a plan­ned change in direc­tion.
After "still-caught-in-a-loop" mir­ro­ring– and repe­ti­tion tech­ni­ques were used to obtain an abstract motif in the pic­ture Göt­ter, the tech­ni­que and the form – and the­reby the con­tent that the pic­ture com­mu­ni­ca­tes – chan­ges in Baum(Sequenz) and Welle (Tri­pty­chon):
In Baum(Sequenz), four pho­tos of the same framing of bran­ches moving in the wind are lain on top of one ano­ther – and the con­den­sed moment of a video recor­ding is crea­ted. It is, howe­ver, not a tim­e­l­ess moment: the move­ment – unlike in his sound instal­la­ti­ons –  does not cir­cu­late and has been artificially/artistically enclo­sed. The form breaks out; move­ments branch off in dif­fe­rent direc­tions and the­reby vir­tually com­press the broad, light blue expanse of the sky into a flat, light blue sur­face or wall.
The piece Welle (Tri­pty­chon) com­bi­nes three pho­to­graphs, each of which shows a sec­tion of a dam. Seen indi­vi­dually, the three pic­tures are unal­te­red nature pho­to­graphs. Com­bi­ned as a tri­ptych and through their con­scious pla­ce­ment wit­hin this tri­ptych, howe­ver, the artistic inter­ven­tion can be reco­gnized. The artist is con­cer­ned with form, with con­ti­nua­tion, with repe­ti­tion or non-repetition (by devia­tion) of form, and lets the images them­sel­ves reflect on these pheno­mena through their own rhythm and the con­cen­tra­tion and equa­liza­tion of the wave lines in them. This pro­cess occurs in front of a black back­ground, and its clo­sen­ess to audio wave­forms, and the­reby to sound, is not dif­fi­cult to recognize.